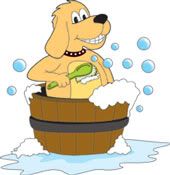 I've never been enamored of pet shampoos and conditioners, not even when I worked in a grooming shop. I always thought that the products were too "fake." I can't think of another word to use. Some made the coats soft and shiny but they always seemed to have too many chemicals, dyes, and other junk in them that couldn't possibly be good for our pets. I found out I was right. If you go to our Contact Us page, you can read about all the toxins that are in our everyday household and personal products -gives me the shivers! However, I am thrilled to be able to offer you the ONLY two grooming products I'll even suggest to people UNLESS it's a brush or nail trimmers that is. I do have grooming products from other companies but quite honestly I ONLY use Animal Scents products for my dog and won't suggest any others to clients or customers because I only want to offer you the best. If I can't do that, then I won't offer you anything. It's why you won't see any commercial pet food on this site because to me it's all just poop. Your dog or cat will thank you for using these products on them. My dog actually LIKES to take a bath and he never did until I started using these products. I'll finish up this testimony at the end so you can just see these products for yourself.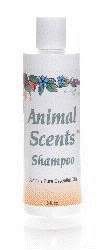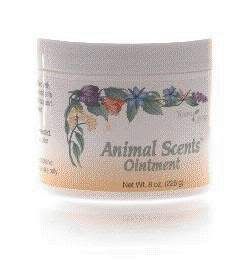 Animal Scents – Pet Shampoo – 8 oz
Formulated with your pet's safety and cleanliness in mind, Animal Scents Shampoo' is gently soothing yet effective. Without stripping your pet's coat of essential vitamins and minerals, Animal Scents Shampoo protects, conditions for softness and manageability and restores shine and color.
How to Use
Pour small amount of Animal Scents' Shampoo into palm and rub gently between hands. Massage thoroughly into pet's wet coat. Lather. Rinse thoroughly. Repeat if necessary. Animal Scents' Shampoo is highly concentrated. If necessary, dilute with water. I actually dilute this heavily with purified water. I mix a few squirts into a 32 fl. oz squirt bottle and then fill that bottle with purified water. After soaking my dog (Shadrach) I then squirt the entire 32 oz diluted bottle all over him, massage it in (it will not suds so don't expect suds) and then rinse. It's quick, fast, and not much rinsing is needed keeping your water use low also. Then I towel him off and use the Animal Scents ointment in place of conditioner (see below).
Ingredients
De-mineralized water, saponified oils of coconut and olive, Animal Scents' Shampoo Essential Oil Complex [citronella (Cymbopogon nardus), lavandin (Lavandula x hybrida), lemon (Citrus limon), geranium (Pelargonium graveolens) and spikenard (Nardostachys jatamansi)] vegetable gum, aloe vera and rosemary extract
Customer Price: $19.74 USD
Animal Scents – Pet Ointment – 8 oz
Instead of possible harmful drugs and antibiotics often prescribed by veterinarians, Young Living blends therapeutic-grade essential oils and wholesome herbs into a wonderfully soothing ointment that affords pets relief from minor skin irritations, cuts and abrasions.
How to Use
Clean the affected area. Apply as needed. If using Young Living essential oils, apply oils prior to application of Animal Scents Ointment. I also use this as a conditioner as I stated above. I get a small amount into my hands, rub them together to make this almost liquid and then I just massage this into Shadrach's coat and skin. He loves it! I also use some as his "little dab'll do ya" after his weekly brushing. When he sees me get this ointment out he comes running because it is not only soothing but animals like the scent. It works as an effective insect repellant also. I use this ointment in my home in place of antibiotic ointments and cortisone creams. This is one product I'm never without!
Ingredients
Mink oil, lecithin, beeswax, lanolin, sesame seed oil, rosewood, wheat germ oil, palmarosa, patchouli, myrrh, carrot seed oil, Melaleuca alternifoila, rose hip seed oil, geranium and balsam fir essential oils
Customer Price: $19.08 USD
Click HERE to order. Go to Product Catalog in the upper right side of website.
If you are NOT a member of Young Living yet, first go to Enroll Now. Then click NO since you aren't a member yet. Then choose Retail Customer, Preferred Customer (on monthly autoship) or Distributor (wholesale pricing). Once you've signed up as a free member, you can then place your order. Then use the ID# you are assigned each time you place an order. Or call 1-800-371-3515 and use ID#767865.
Brought to you by Young Living Essential Oils